Africa's Greatest Wildlife Reserve
Balloon Safaris Ltd has been flying hot air balloons over the Masai Mara for more than 40 years. The Masai Mara is located in the South Western part of Kenya and spans 1510 square kilometres of National Game Reserve, consisting mainly of grassy plains and rolling hills. It is recognised as one of Africa's Greatest Wildlife Reserves.
The reserve is bordered by the Serengeti National Park in the South, Siria Plateau and Oloololo Escarpment in the West and the Masai Pastoral ranches in North, West and East. The reserve is crossed by three main rivers, the Sand River, the Talek River and the Mara River.
Particularly renowned as the home to the "Great Migration" and the 'big five', Buffalo, Lion, Cheetah, Elephant, Rhino and so many other African wildlife species and birds. Kenya's Maasai Mara National Reserve is undoubtedly the ultimate ballooning destination. The landscape is stunning and from a hot air balloon you can see for miles and miles.
It is difficult to describe what the silence and stillness is like as you glide gracefully over the savannah. Depending upon the wind direction on the day you may drift along one of the rivers and see crocodiles and hippos. Every day is different, but typically we see a wide range of wildlife; in any one flight you are likely to see Giraffe, Elephant, Topi, various Gazelle, Zebra, Hyena and Ostrich. For the keen eyed you may also fly over Cheetah, Lion and sometimes spot the elusive Leopard or even Rhino. We cannot guarantee what you will see in any particular flight, every day is a new dawn.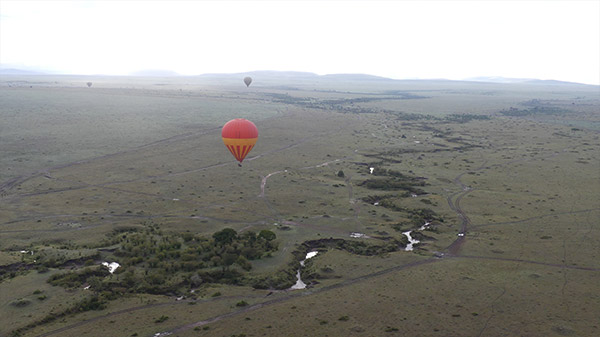 Mosaic of rolling hills, open grassland and acacia woodland supports a quite incredible profusion and variety of wildlife.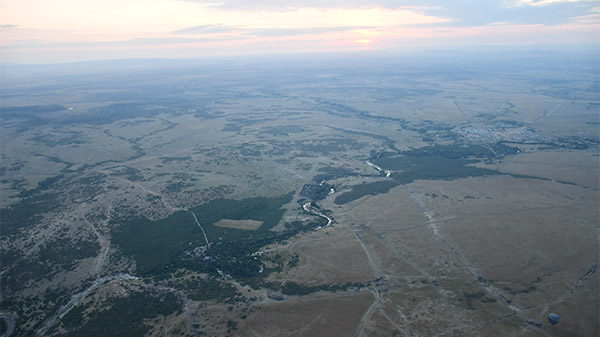 A profusion and spectacle of wildlife and nature
Over the years we have seen some amazing sights, including Lion stalking Giraffes, Lion and Cheetah on 'kills', Leopard with their 'kills' in trees and so much more. With climate change the timing of the 'Great migration' varies slightly but you can be sure to see Wildebeest during July to October, the only question is: how many? A balloon flight gives you an exceptional way of seeing animals in the wild in their own habitat. Irrespective of what or how many animals are seen, most will say that the balloon flight was the best experience in their safari holiday.
Balloon Safaris Limited have a strong relationship with the local Masai Community, with almost all of our crew and staff being local Kenyan or Masai. We were the first to give training to a Kenyan as a Hot Air Balloon pilot, he still flies hot air balloons here in the Masai Mara. We give flights to many of our hosts from local lodges and local Tour Operators so that they experience a flight first hand and can share it with you…
A contribution is made to the Masai Mara National Game Reserve for every passenger who flies in a Balloon Safaris Limited balloon flight to help to sustain our wonderful wildlife reserve for generations to come.
What are you waiting for?